Engagement and Content Go Hand in Hand
High learner engagement is just as critical as the content you choose to include in your training program. If your content is relevant but uninteresting, you will be wasting your efforts. Conversely, if you can achieve a high level of engagement, but the content of your course is not optimal, you end up in the same situation. This article walks you through the steps to create a training program that is both engaging and rich in content.
Setting Objectives
Setting training goals and aiming to achieve them are essential steps to create quality content and, consequently, generate interest from your learners. These goals also allow you to keep your training program on track.
Identify the Gaps
To correctly identify the objectives of your training, start by asking yourself a few questions. First, think about the issues you wish to address by creating your training program. This critical reflection must also be focused on the relevance and attractiveness of the training course you want to offer.
---
Establish a Structure Within your Training Program
Establishing a structure allows you to identify the gist of what needs to be covered in the training program you are offering. Therefore, once you have identified the gaps related to the topic being discussed and established your goals, it is essential to have a plan that outlines the entire training program you want to implement. This way, you avoid including too much material in a single session or making the training content too trivial.
Micro-Learning
From a practical point of view, it is effective and beneficial to use an approach that is both simple, relevant to the content, and perfectly suited to the learner. If the content of your course contains a lot of information and the level of complexity of the training is high, a micro-learning strategy becomes pertinent. This strategy advocates fragmenting content into modules in which you present a few concepts at a time. In this way, your learners will have an easier time assimilating and understanding the information conveyed and, consequently, a higher engagement rate.
However, be careful when using the micro-learning technique. Your video should contain a minimum of content so that you can achieve the overall goals you established beforehand. To learn more about micro-learning best practices, check out this handy guide we've created for you.

Reusable Course Templates
Whether you are an expert at creating training programs or a newbie, know that there is always a way to perfect the experience you offer. Aiming to improve and update your training program encourages you to stay abreast of the latest trends and deliver training that meets the needs and expectations of your future learners. To do this, favour reusable lesson models, therefore timeless capsules that last over time. Moreover, micro-learning is a tool allowing you to quickly adjust and update the elements of your training at any time.
Make Everything Dynamic
Listening to a presentation from start to finish can be long and tedious. To counter this, make sure to provide a dynamic and participatory training experience using various teaching methods. During the learning session, feel free to vary your methods by incorporating quizzes and mini-assessments, for example. This way, you stay informed of the progress of your learners' achievements, as well as their level of understanding. This method also gives you information about the quality of your training program and its content. Ultimately, you promote a better engagement rate on the part of your learners!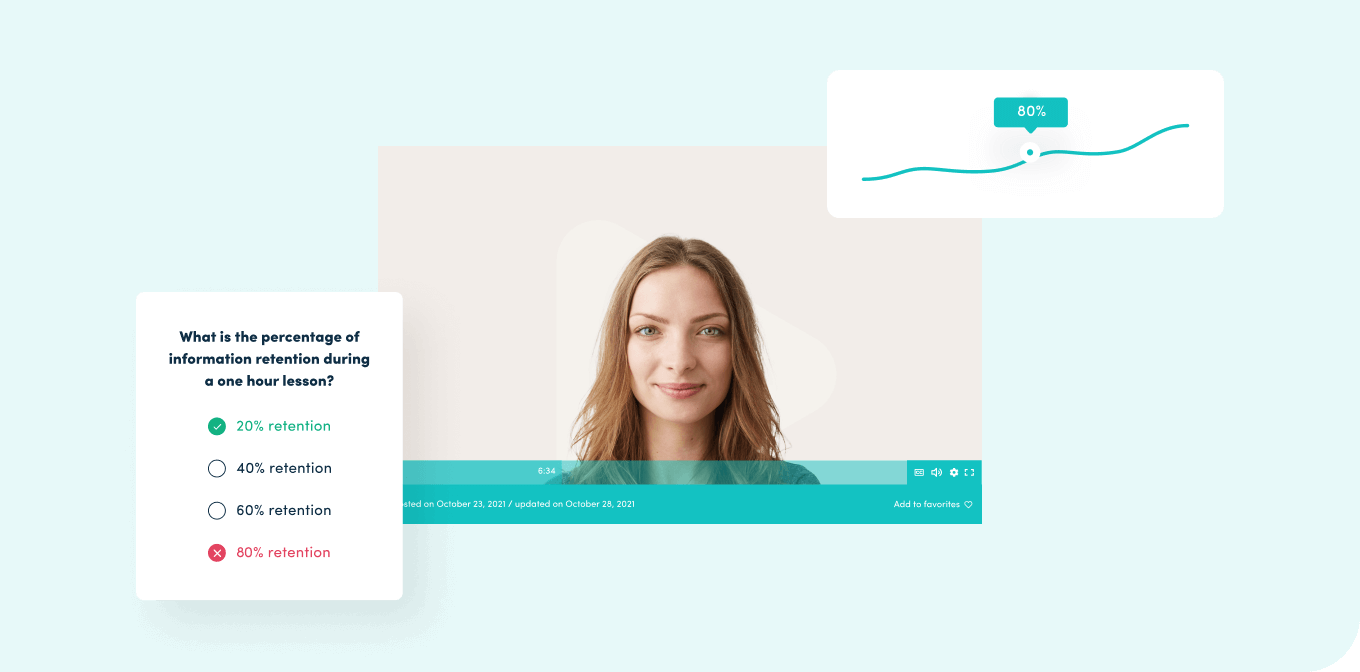 ---
Include THE Right Content
Once the structure of your training program is well defined, all that remains is to outline your capsules and enrich them by adding the essential elements to cover. For example, suppose you have established that you want to introduce basic notions of internal communication between your employees in the course's first session. In that case, you can immediately present essential concepts and definitions relating to organizational culture.
Adjust as Needed
As you can imagine, learning abilities vary from person to person. This is why you should always keep in mind that the content of your training may not seem optimal for some of your learners, even if it is well thought out and prepared. In such a case, adapt the content of your course according to the abilities of your learners. By being flexible, you will have the opportunity to improve the training experience you provide continually. As you might have guessed, this is one way to stay on top of gaps in your program and get constructive feedback. In short, allow your learners to participate in the content creation process and influence your course's design.
In Short…
For better engagement from your learners, make sure you're offering quality content. By following the tips we have presented to you, you will increase your training program's chances of success. Good luck!