Teaching methods and the way we absorb information are constantly evolving. Indeed, technological advances and the advent of digital tools in our lives have contributed to a redefinition of the best learning practices. Many felt this with the popularisation of distance work and education in response to the 2020 pandemic. New assimilation of technological tools has confronted us with an essential question: Is the traditional learning method the most efficient?
Recognizing Micro-Learning
As online education has evolved in recent years, micro-learning, in particular, has aroused the interest of many professionals in this field. While its best definition is still up for debate, this formula is well appreciated for its short video format. Learn all about micro-learning in this article.
Why Choose Micro-Learning?
We often hear that our ability to stay focused diminishes with the predominance of technological tools. Indeed, we are more and more used to getting the answers to our questions quickly. Whether this is true or not, the fact remains that the phenomenon of procrastination is indeed real. But that's not necessarily for the reasons we believe.
One explanation for this issue is as follows: A large number of current learning formulas are neither adapted nor optimized for the needs of today's learners. For example, some training courses are, despite themselves, redundant and not very engaging. Being aware of this problem is the first step in addressing it.
There are many reasons to start a shift towards micro-learning. Among them is undoubtedly the fact that this type of learning is ideal for certain types of content and specific educational objectives. In this article, you will familiarise yourself with its other benefits.
Real-time Problem Solving
Regardless of the context, there is a need for rapid assimilation of information. Micro-learning allows you to deliver the right content according to your needs and your schedule. It corresponds to today's reality, where getting your questions answered almost instantly has become the norm.
The Power of Video
Although there are many forms of micro-learning, such as podcasts or infographics, the video format is undoubtedly recognized as a winning formula, as it is engaging, dynamic and motivating. The segmentation of its content into short capsules allows for personalized problem solving, is almost instantaneous, and facilitates the filming process.
Regardless of the formula used, it is vital to consider the specific needs of your organization. The format must fulfill a precise function of delivering the information necessary for the development of organizational knowledge.
The Many Facets of Micro-Learning
Much More than Fragmented Content
It's wrong to believe that micro-learning only breaks up content into smaller individual capsules and is presented as separate sections.
Moreover, dividing your content into bite-size sections doesn't automatically make it micro-learning. Instead, you need to make sure that your content is entirely relevant and viable on its own. A learner should be able to understand one capsule without having to refer to another.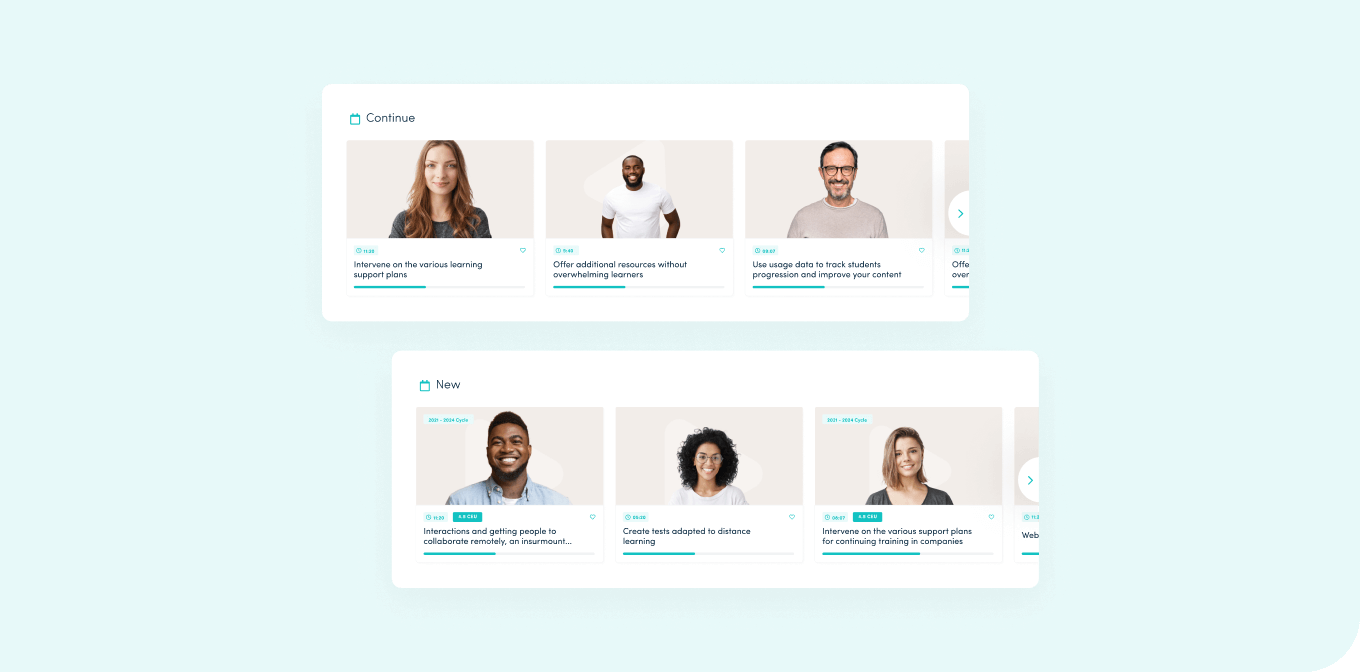 Setting Clear Goals
Each capsule must meet specific learning objectives. Be sure to clearly define what success means to you, as well as the criteria required to achieve it. By setting goals, you can follow up on learning and ensure the quality and relevance of your content to improve teaching and information retention.
Focus on Flexibility
Each organization and its members may have different knowledge development needs. Micro-learning allows you to respond to this challenge by creating courses or series of capsules that can cover a subject as briefly or comprehensively as you want. Since your content will be produced as autonomous entities, your learners will be able to create a curriculum by referring to the lessons that are most relevant to their needs.

Give Back Control
A distinct advantage of micro-learning is the sense of control that using this platform gives the learner. Indeed, It's up to him to decide the moment and amount of time spent on the learning session they will follow. For example, consider applications for learning a new language. Their effectiveness is well known as the ability to motivate learners and give them the freedom to focus on one or more units at a time and when it suits them.
In Short
To ensure the success of your micro-learning training, remember these four key points:
Relevance
Le contenu doit être bien sélectionné, structuré et adapté aux apprenants, afin de répondre adéquatement à leurs besoins d'apprentissage. N'essayez pas de couvrir l'entièreté de votre contenu en une seule capsule. Tentez plutôt de le scinder de manière logique et cohérente.
Flexibility
Make sure your content is suitable for the various digital platforms. In addition to being easy to use, the content should be flexible and customizable, according to your evolving needs. This is exemplified as the ability to create playlists and a platform that reflects your organization.
Usefulness
Your training must have the ability to meet a specific need and bring out the relevant information to reach it quickly and adequately.
Available at all Times
Your users should be able to access their training content when and where they want. Having to schedule a specific time in the day to attend training requiring advance registration is no longer mandatory!
You now know how to take advantage of video clips in support of the training offered to members of your organization!