You probably already know that video is widely used in different types of academic and professional training. It is no surprise that we choose to use this tool to communicate information. Nowadays, it has become second nature to watch videos for learning. Indeed, this medium allows the optimization of your training program while transmitting complete and impactful information.
Wondering where to start when creating your learning capsules? Creating content can be a complex task as part of a training program, especially when you plan to incorporate sophisticated visual aids, such as videos or graphics. Rest assured, there are several techniques to make your job easier. Easy to develop, the "storyboard" is an essential tool for planning your video capsules. This step is crucial since it allows you to visualize the different information to integrate within your capsule.
So, to keep the attention of your learners, try to keep the capsules concise. In this way, you will promote the engagement and the success rate of your participants. But beware! Too much information disseminated in a single segment can reduce learner engagement and understanding of the concepts discussed. To avoid losing your audience's attention, fragment your content into modules and present only a few notions at a time. Doing this will make it easier to retain and understand new information. To find out more, we invite you to read our article on the use of video in micro-learning capsules.
Some Points to Remember to Make your Video Clips Successful
Creation
Your learner's time is precious, which is why videos should be concise and easy to understand. A good starting point for editing a video is to cut out the parts that are not essential. Then, to ensure a subtle link between the scenes, we recommend opting for simple transitions, which will enrich your videos' quality. Once the structure is in place, and you are happy with the flow of the different parts of your video, it's time to add a few touches of creativity and professionalism. The integration of graphic elements, such as "lower thirds" (graphic strip located at the bottom of the screen providing additional information), may be relevant when one wishes to identify a speaker on the screen. Finally, before exporting your video, consider incorporating background music that matches the tone of your production.
Video Tracking
On the backend of training videos lies a learning management software that allows the content creator to administer, share and track audiovisual publications. This software is called the "LMS" (Learning Management System). A system of this kind, such as Tuto, makes it possible to follow the progress of the learner's learning. Another of its features is that it allows you to monitor the actual involvement of the learner in the training program. No content can be skipped or fast-forwarded. This tracking feature is a surefire way to ensure that the learner has viewed all educational content in order and its entirety. Finally, we always want our content to be well received by participants, so a tracking option allows the performance of video content to be analyzed.
Be Authentic
Nothing better than using your voice to present training content.
Be yourself! Take the time to write a script that contains all the essential points to present and practice speaking before officially recording. Thus, you will add a touch of professionalism to the capsule you are preparing.
High-level Sound Quality
To ensure the success of your training, you must provide the best learning conditions for your learners. Therefore, your video capsule should be accompanied by an optimal audio quality, as conversely, poor sound may interfere with the learning process of your learners. So it's best to prepare in advance for sound recording your capsules, as ending up with poor sound quality and trying to fix it later can be complex and delay the delivery of your project.
Here are some tips that will help you:
Choose your check-in location carefully. Isolated from noise is undoubtedly the optimum condition.
Record for the first time and identify the ambient noises.
Use a good quality microphone.
If you are recording your capsule in a noisy environment, use a dynamic microphone.
Training Without Borders
For the training program to reach as many people as possible, it is essential to make it accessible. Adding closed captions improves the user experience by allowing the hearing impaired and those in a location where they cannot turn on the volume on their device to get the most out of their training. By the way, did you know that 85% of Facebook videos are viewed in silent mode? Such usage patterns inevitably translate into how learners receive the content of a training program. Not all have the same method of assimilating information. For some, watching a video is enough to retain information. For others, you have to combine reading with listening. So, why not just automatically include subtitles in your audiovisual content?
Engaging Content
Make the learning experience fun and memorable. In this way, you optimize the information retention rate and promote a high engagement rate from your learners. Thus, combine more active elements with your video capsule by using the interactive elements that the Tuto platform offers you, such as the validation of what has been learned while listening. In addition, vary the content of your training capsules and involve your learners throughout their learning journey. You can read our recommendations for adding media in this article.
More Visuals
It is vital to balance the visual medium and the information you communicate within your video clip. To facilitate understanding and make the learning process more enjoyable, share information by showing pictorial examples to your learners rather than explaining the theory to them orally. For example, if you are training learners to use a new project management platform, display a screenshot of the execution of each action. Then record your voice to accompany the visuals explaining the steps, actions, and usage options you perform.
Proximity effect … at a distance
Incorporating your face into the training video creates closeness between you and your learners. In the film industry, the primary function of the "camera gaze" is to call the viewer to witness and to create a bond between the main subject and the interlocutors. The audience thus experiences a feeling of reality which makes everything more spontaneous and authentic, as during a real-time interaction. This principle is relevant to apply when displaying your face in a video capsule to create the same effect of proximity with your learners and make the experience more captivating.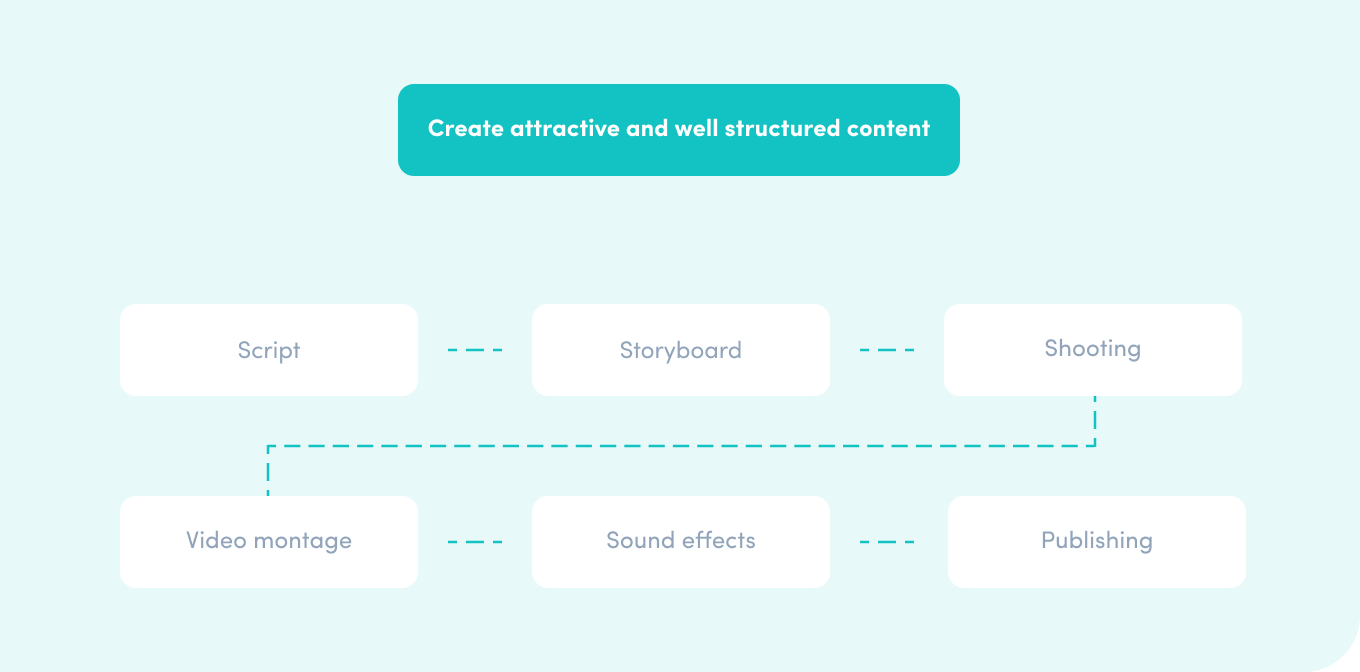 ---
Learner Feedback
Collecting Feedback Beforehand
Before publishing the video, have someone you trust view the content and provide constructive criticism. In this way, it allows you to improve certain aspects before its official release.
Collecting Feedback Afterwards
There is always room for improvement! After your entire video clip has been watched, it's a good idea to get feedback from your learners. Take comments into account by removing and/or adding items in future training videos you create. This way, you make sure you are giving learners the information they need.
Conclusion
Whether your employees are abroad for work reasons or want to change the work environment for a day, the video makes your training program accessible while saving the learner some valuable time. With these tips and tricks in mind, you will take advantage of video, thus optimizing your training program. Have at it!